TWD #47: Surprise! No berry cake.
January 20, 2009 at 8:06 am 12 comments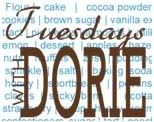 Here are my excuses.
1. I was out of town all weekend. Vegas baby Vegas!
2. I got home Monday @ 1pm.
3. I had an order of 50 cupcakes to bake by Tuesday.
4. By the time I was done baking 50 red velvets I was over being in the kitchen.
5. I still haven't done the dishes yet.
Thanks for hosting this week, Mary of Meet Me In The Kitchen. Sorry I slacked. I am a bad TWDer. *hangs head* But I am hoping to bake the berry cake up sometime this weekend. All the P&Q drama is making me want to tackle it even more! I guess I am just a sadist like that.
Looking forward to seeing the reviews and blog posts from fellow TWD bakers.
Happy Inauguration Day readers!
Entry filed under: Tuesdays With Dorie. Tags: surprise berry cake.